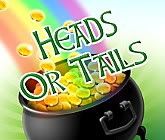 This is my first visit to the Heads or Tails experience an opportunity for bloggers to unite and discuss the topic of the week, this week the Heads theme is :
HEADS - "Steam"Make any kind of post using any form of the theme/prompt "Steam."
I was shopping through the local "Zellers" today and came accross a 2 person Sauna on sale for only 499, it appears to be a great deal as the regular retail is listed at $1000. It even comes with a spot to plug your MP3 into it to enjoy your latest tunes while the warm "Steam" soothes your aching muscles. If only I could think of somewhere to put it I would have it home by now.